Welcome to Our Services
Centennial Property Maintenance has provided Lawn Care and Home Remodeling Services to residents of Centennial Colorado and surrounding areas since 1999.  Our customers have come to appreciate our ability to provide prompt attention to their needs with quality workmanship. Our experience and trained staff can perform nearly any in home or outdoor maintenance, repair, or Remodeling project you may encounter as a homeowner.
Centennial Property Maintenance believes in building lasting relationships with any client, regardless of the size of the job.  This is why we hire full time year round experience and trained employees instead of using sub-contractors.  This ensures that every client receives a respectable and knowledgeable technician performing your work, and not some random person who will only be on your property once.
We are committed to providing all our clients with timely and cost effective solutions to any maintenance need on your property.  Our diverse staff of experienced and trained property maintenance specialist offers a unique experience to all our clients—one call to Centennial Property Maintenance is all that is necessary.  We can handle most any lawn care or home remodeling service needed.
We provide services in many subdivisions including Broadway Estates, Cherry Hills Village, Cherry Knolls, Columbine, Four Lakes, Fox Hill, Fox Pointe, Fox Ridge, Greenwood Village, Heritage Greens, Heritage Place, Highlands, Highlands 460, Highlands Ranch, Highwoods, Homestead, Homestead Farms, Homestead I, Homestead II, Hunter Hills, Kettering Park, Liberty Hills, Nob Hills, Oakbrook, Polo Run, Ridgeview Hill South, Ridgeview Hills, South Bridge, South Littleton, Southglenn, Southwind, Stonebury, The Knolls, Three Ponds, Village Of Four Lakes, Villages at Raccoon Creek, Vista Verde Estates, Walnut Hills, Willow Creek, Willow Creek  I, Willow Creek  II, Willow Creek III, and surrounding areas around Centennial Colorado.
CPM Primary Service Divisions:
Lawn Care
Landscaping
Lawn Irrigation
Home Remodeling
Snow & Ice Management
We are committed to providing all our clients with timely and cost effective solutions to any maintenance need on your property.  Our diverse staff of experienced and trained property maintenance specialist offers a unique experience to all our clients—one call to Centennial Property Maintenance is all that is necessary.  We can handle most any Home, Lawn, or Landscaping service needed.
Take a look around or give us a call to learn about all the different services that we can provide.  Since we offer free estimates, you can meet with one of our experts at your convenience to take a look at that project that you are just starting to plan.
Home Remodeling Services
Home Remodeling: Exterior Paint and Siding
There are many ways to paint your home, and we have tried them all. We have chosen to only paint exterior siding using brushes and rollers, leaving a high quality finish not attainable by spray painting. Before we paint, we'll remove any loose caulking and fill all of the cracks and seams with the highest quality caulk available. If you're thinking that your siding may need a little more than just a coat of paint, invite us over for a siding inspection. We'll have a look at the siding and all of its components and identify current damage, as well as make recommendations for avoiding future problems. No, we're not psychic; we just have a lot of experience with siding!
Home Remodeling: Kitchen Renovation
We humans seem to have a need to change our environment from time to time. Sometimes it's because things feel old and outdated. Other times, the space that we live in just doesn't fit our needs any more. Whether you're contemplating a full kitchen remodel, moving a wall, or just replacing some base boards, we can help you to feel comfortable in your own home again. Have a look at some of our Remodeling projects and invite us over to chat about your ideas.
Home Remodeling: Bathrooms and Showers Renovation
Bathrooms and showers have exposure to moisture. This leads to challenges with mold on surfaces, grout and caulk.  When moisture gets under grout or behind tiles and caulk, it will soak into the dry wall and insulation creating conditions for mold to grow. Mold is the cause of much sickness and illness in our homes. Many times this can be resolved by redoing the tile grout and caulk in your shower. Other times it all must be taken out, treated and replaced. It you desire new sinks, toilets or vanities, let CPM install them properly.
Home Remodeling: Handyman Services
We all know those people that can fix just about anything. Are you not one of those people? Well boy, are you in luck! We have a whole bunch of them! The list of household repairs that we can perform is long. Below are a few examples of what we can do. If you don't see what you need, call us. Chances are, we can fix it!
*  Door Adjustment, Drywall Patching, Drywall Texture, Light Fixture Installation
* Faucet Installation / Repair, Valve and Plumbing Repairs, Sink and Shower/Tub Installation
* Drafty Window Adjustment, Cabinet Repair, Relocation and Door Adjustment, Custom Shelving
Home Remodeling: Roofing Services
Our roofing contractors have many years of experience and training.  We use quality materials and and are meticulous about how we remove and replace a roof.  Whether a partial replacement, a leak fix, or a full replacement, we will do the job correctly and guarantee our work.  We also inspect your roof to determine what work needs to be done and can assist with the what type and style of shingles can be used.
Home Remodeling: Fence & Deck Services
Fence and Deck Services have been a mainstay of our business for many years. We have learned that using the highest quality materials available greatly reduces the need for repairs and maintenance in the future. Combine high quality materials with our superb workmanship, and the result is an attractive fence or deck that can handle the challenges of our harsh Colorado weather with grace and ease, year after year. Our experience contractors can repair or design and build a fence or deck for any taste or need.  Learn More
Lawn Care Services
Lawn Care: Fertilization Programs
Our lawn care treatments are designed to improve the overall vigor of your lawn.  At Centennial Property Maintenance, we know that fostering healthy plants means creating a well-nourished soil ecosystem and stimulating root development. By harnessing the benefits of naturally occurring microorganisms contained within the product, Holganix allows you to achieve the green grass dream in the way Mother Nature intended. It's a probiotic solution to plant wellness, resulting in a robust soil ecosystem and reducing the amount of pesticides required to obtain weed, insect and disease control.
When using Holganix, you'll be "promoting strong plant health by naturally increasing resistance to disease and insect damage through significant root and cell wall development" thus reducing the need for nitrate and phosphorous fertilizers by up to 90% and reducing the need for pesticides by 50%.  Holganix products increase the health of your lawn and plants while offering a safer, greener lawn care solution for the environment.
Lawn Care: Shrub Pruning
Mowing the yard is only half the challenge. Bushes that are not consistently maintained hurt the appearance of even the best-kept property. Shrubs and small trees must be pruned properly and at the correct time of season.
Lawn Care: Landscape Design and Installation
Experts say Remodeling a master bathroom or kitchen can potentially return big dividends at the time of sell. According to Money Magazine, professional landscaping can return up to 200% of the original investment when you sell your property. Call us to today to enjoy the beauty of a landscaped yard by Centennial Property Maintenance . We will design your landscape to your specifications with a computer program for you to approve then we will professionally install it with minimal inconvenience to you.  Learn More
Lawn Care: Mulch Installation
Mulching landscape beds is a great way to add uniformity to your landscape. It can also be one of the most beneficial things you can do for your soil and plants. A layer of mulch can help prevent weeds and help even out the soil temperature and which will help retain the moister level and reduce the need for watering. If you have not considered mulching in the past, you might want to reconsider. Let Centennial Property Maintenance help you out.
Lawn Care: Core Aeration and Over Seeding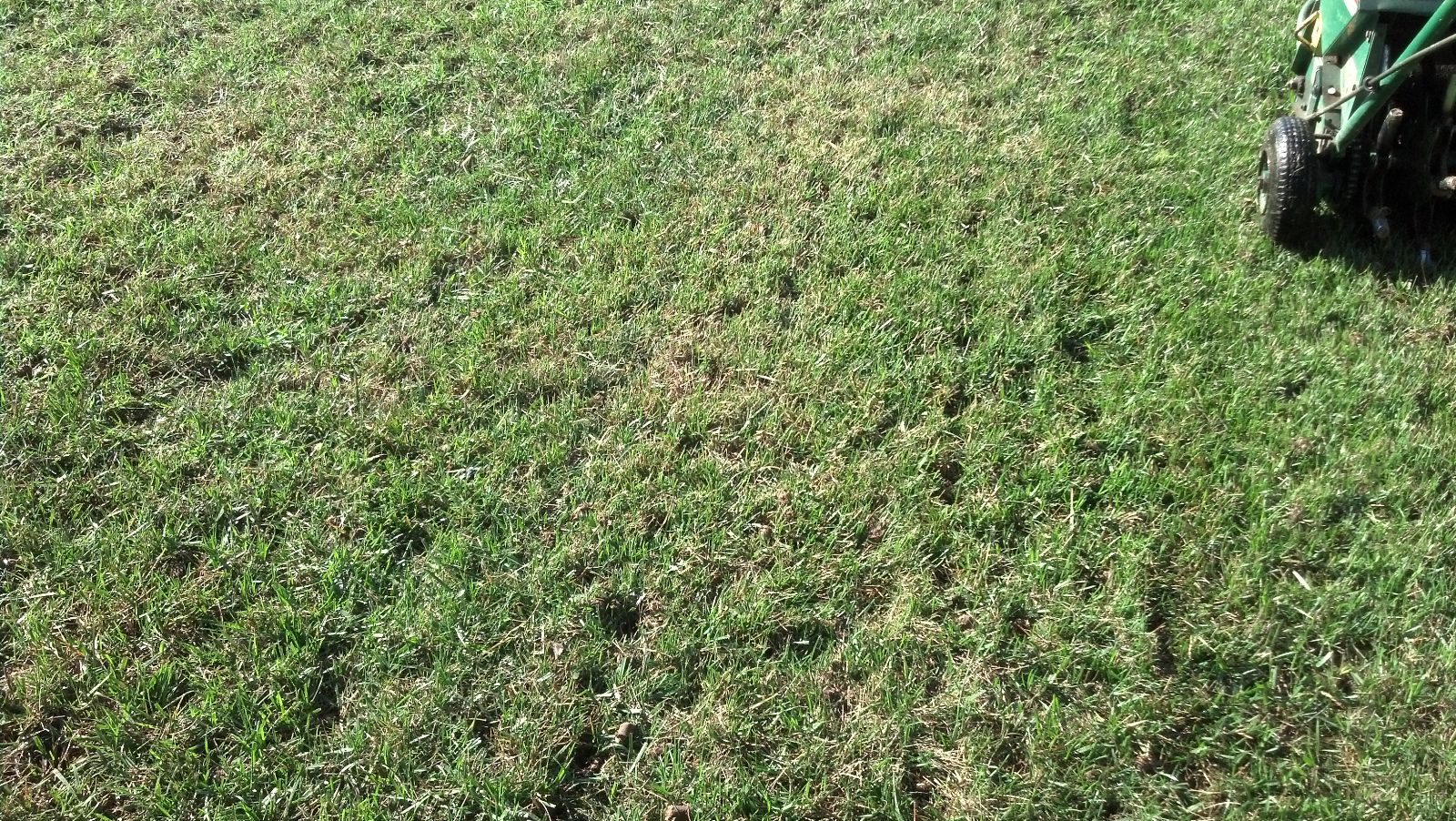 Annual Core Aeration service is vital to maintaining a healthy and vibrant lawn. Core Aerating in the fall allows for greater water retention and air circulation at the root system and helps reduce soil compaction. The result is a thicker, greener and healthier looking lawn.  When we over seed we only use a Certified Blend of Tall Type Fescue applied at 5 to 6 pounds per thousand square feet.
Lawn Care: Lawn Irrigation Services
Centennial Property Maintenance is able to provide our clients with a full service irrigation division headed by our certified irrigation technician.  The most important thing one can do for their sprinkler system is to properly start up and shut down the entire system at the beginning and end of the warm season.  With years of experience, we here at CPM are able to help schedule these services in order to avoid costly repairs for late or early freezes.   Learn More
Lawn Care: Commercial Snow & Ice Management
You can trust Centennial Property Maintenance in the most severe of weather events. Don't risk the safety of your employees, tenants or loved ones with unsafe parking lots and sidewalks. We won't rest until we are 100% certain that all of our properties have been professionally cleared, treated and are safe for passage.   Learn More
Centennial Property Maintenance Service Areas
We serve many subdivisions including Southglenn, Heritage Greens, Cherry Knolls, Ridgeview Hills, Oakbrook, Highlands, Four Lakes, Homestead, Homestead II, Homestead Farms, Willow Creek, Foxridge, Walnut Hills, Heritage Place, Cherry Hills Village, Greenwood Village, Heritage, South Littleton, South Bridge, Kettering Park, Columbine, Villages at Raccoon Creek, Three Ponds, Highlands Ranch, Highwoods, and Stonebury., and surrounding areas around Centennial Colorado.
Why Choose Centennial Property Maintenance?
Full Service.  Annual lawn care maintenance, landscaping design, irrigation installation, irrigation maintenance, home restoration and design, siding installation, windows and doors, roof replacement and repair, fencing, snow and ice management, and more.
Quality.  Our professional staff and team members provide first rate services and quality workmanship. We use nothing but high quality products and materials so that our customers benefit in increased return on their investment.
Experience.  Our team members are qualified in every aspect of our services. Individual specialization ensures the work is performed with the highest quality materials and supplies.  Having our own staff ensures that every client receives consistent, respectable and knowledgeable technicians.
Committed.  We are committed to providing all of our clients with timely and cost effective solutions to any maintenance service, repair, custom project and lawn care needs.  We pride ourselves in knowing our customers receive the best quality, property maintenance services in Centennial Colorado.
Community.  Centennial Property Maintenance is a family-owned business who has served the residents and the community of the Centennial Colorado since 1999.  We share our success with the local community and actively support The Boys & Girls Club.
If you have any questions, don't hesitate to contact us at (303) 713-9306 or admin@wercpm.com for additional information.
For All of Your Lawn Care and Home Remodeling Service Needs
Call Centennial Property Maintenance!
 (303) 713-9306